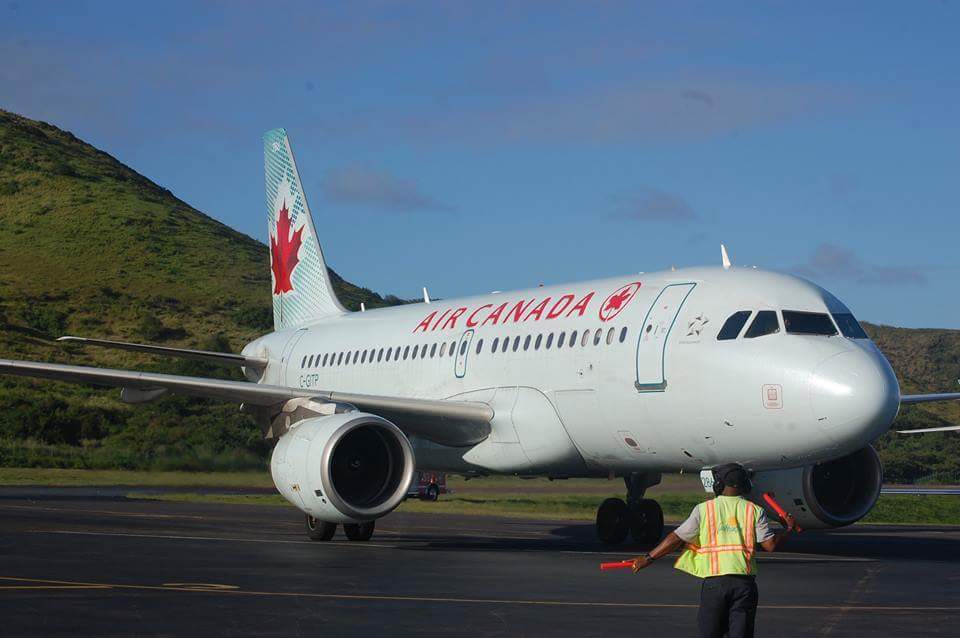 Photo: Air Canada on its inaugural landing at St. Kitts' Robert L. Bradshaw International Airport in November 2012
687/2018
Basseterre, St. Kitts, July 28, 2018 – Passengers flying to St. Kitts and Nevis and other destinations that Air Canada flies to would soon see a rise in airfare.
Air Canada which began flying into St. Kitts and Nevis' Robert L. Bradshaw International Airport in November 2012, operates seasonally.
The Montreal-based airline said it experienced a 31-per-cent increase in the price of jet fuel compared with last year's second quarter and will offset some of the impact with higher fares and other initiatives.
Air Canada chief executive Calin Rovinescu said Friday the airline did well in terms of revenue, which was up 10.4 percent compared with last year's second quarter, but adjusted earnings dropped to $114 million or 41 cents per share.
That was only about half as much as Air Canada's adjusted earnings of $226 million or 82 cents per share in the second quarter of 2017, but still better than analyst estimates of 28 cents per share, according to Thomson Reuters Eikon.
Air Canada's revenue for the three months ended June 30 was in line with estimates at $4.33 billion, up from $3.91 billion in the second quarter of 2017.
Rovinescu said its strong revenues demonstrated the appeal of Air Canada's brand and the continuing strong demand for air travel in all of its main markets.
"We did, however, revise our 2018 guidance for certain key financial metrics given the rapid increase in fuel prices in the first half of 2018," Rovinescu said in a statement.
Air Canada is now estimating jet fuel will cost 80 cents per litre in the third quarter and 78 cents per litre for the full year. The previous full-year estimate was 75 cents per litre.
"We estimate that we will be able to mitigate approximately 75 per cent of the expected 2018 annual fuel price increase through fare increases, other commercial initiatives and our cost transformation program."
Air Canada also reported a $77-million net loss, or 28 cents per share, which included a $186-million loss on the expected sale of 25 Embraer planes and a $25-million loss on foreign exchange.
In the same period last year, it had a $26-million gain on a sale of assets and a $68-million gain on foreign exchange.