LOUISIANA, USA, SEPTEMBER 14, 2023 (PMO)- The citizens and residents of Saint Kitts and Nevis are set to benefit tremendously from a newly struck alliance between the Government of Saint Kitts and Nevis and Southern University (SU) in Louisiana, United States (US).
 
After months of discussions and extensive preparations spearheaded by Her Excellency Dr. Hadiya Claxton, Special Envoy for Investment, Development, and International Business Relations; the Government is delivering the most affordable university programme to have ever been made available to the Federation.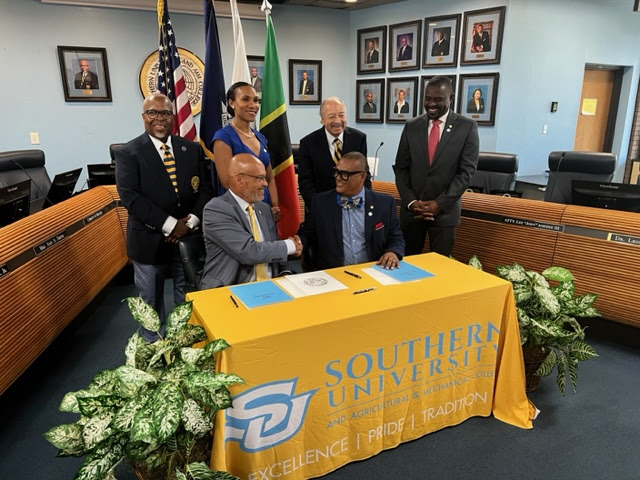 Following a comprehensive tour of the Baton Rouge campus, a Memorandum of Understanding (MOU) between the Federation and SU was signed by Deputy Prime Minister and Minister of Education, Hon. Dr. Geoffrey Hanley; and Southern University President Dennis Shields, in a ceremony held at the aforementioned campus in Louisiana on September 13th, 2023.
 
Chief among the programme's benefits is significantly reduced tuition rates of under US $4,200 per semester currently (on-campus study) for any Kittitian or Nevisian citizen or resident desirous of pursuing Undergraduate studies. Tuition reductions will also extend to accommodate those pursuing Graduate (Master's) degree programmes, online degree programmes, and certification programmes.
 
SU has also agreed to accept academic credits from Clarence Fitzroy Bryant College (CFBC), thereby further reducing overall cost and study time. Caribbean Secondary Education Certificate (CSEC) credits will also be accepted for university enrolment.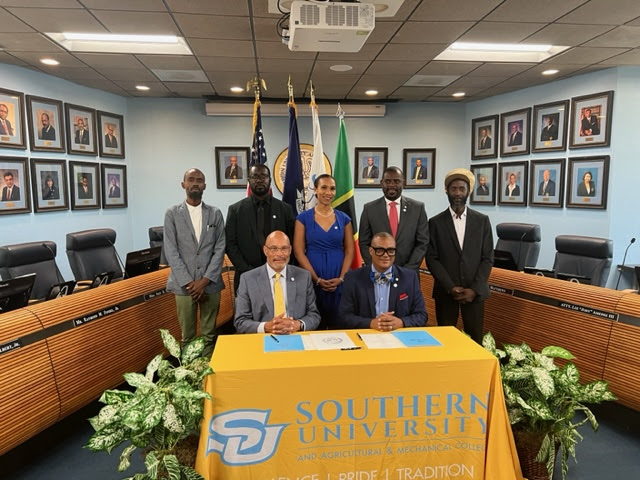 The signing ceremony was attended by Her Excellency Dr. Hadiya Claxton; Minister of Agriculture, et al., Hon. Samal Duggins; Permanent Secretary in the Ministry of Agriculture, Miguel Flemming; Chief Executive Officer of the Marijuana Commission in the Ministry of Agriculture, Dr. Garfield Alexander; and Technical Officer in the Ministry of Agriculture, Ronald King. Also in attendance were the Chairman of the Board (SU), Myron Lawson; President Emeritus of Southern University System, Dr. Leon Tarver; Southern University Law Centre Chancellor, John Pierre; other faculty and staff members; and the State's dignitaries.

Interested persons are encouraged to contact the Ministry of Education in Saint Kitts and Nevis via email at [email protected] or via telephone at 1(869) 467-1402 for additional information and details.
###