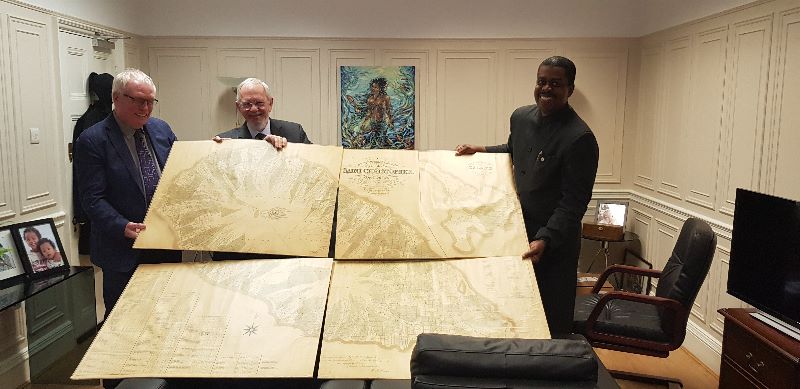 London, England – 15th March 2019 – In a brief and warm handover at the High Commission; St. Kitts and Nevis High Commissioner to the United Kingdom, His Excellency Dr Kevin M. Isaac accepted a one hundred and ninety-one -year-old (191) Map of St. Kitts from Dr David Eastwood and Barry Newton.
The map, which dates back to the Nineteenth Century, was drawn in 1828, when the island was being surveyed in preparation for the development of the sugar industry. The map initially showed lines, which would eventually sketch the routes for the railway which would be used by the plantations to transport their sugarcane to the sugar factory at Needsmust Estate in Basseterre. The Moody family, who is understood to have been the original owner of the sugar factory, later donated the map to the Booker Agriculture International (BAI), a company which oversaw sugar production in St. Kitts and the wider Caribbean islands.
For years, the map had been displayed at the offices of Booker Tate Headquarters in Bucklersbury House and later occupied a prime position in the hallway of Bloomsbury House in London. It was first mounted as a single piece but had to be reduced to four parts when the company downsized. High Commissioner Isaac regrets this development but admitted that whilst the cutting of the map may affect its financial value, its authenticity and worth to the cultural heritage of St. Kitts speak to a far greater value.
According to Dr Eastwood, when former Premier of St. Kitts, Nevis and Anguilla, Robert Llewellyn Bradshaw saw the map circa 1960s, he requested that it be donated to St. Kitts, but at the time the company rejected the idea. However, Dr Eastwood, insists, although the sugar industry has been decommissioned, given its historical significance and role in the development of the industry in St. Kitts, the map should be suitably display at the High Commission.
High Commissioner Isaac thanked him for the gracious gesture, but after having had sight of the map, insisted that this important historical discovery would be better placed at the National Museum in Basseterre and immediately contacted the Ministry of Foreign Affairs to organise for its transfer. High Commissioner Isaac expressed profound gratitude to Dr David Eastwood, Barry Newton, as well as Mr. Bob Merry of Booker Tate for their kind consideration and remarkable efforts in working to reposition this map among the cultural heritage of St. Kitts and Nevis.
Disclaimer
*This article was posted in its entirety as received by SKN PULSE. This media house does not correct any spelling or grammatical errors within press releases and (or) commentaries. The views contained within are not necessarily those of SKN PULSE.