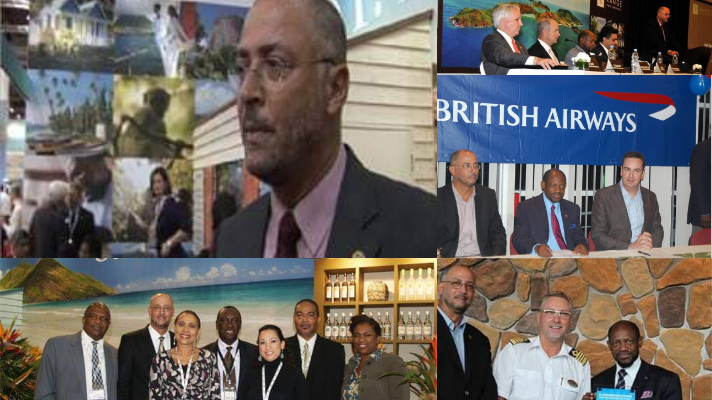 249/2019

Basseterre, St Kitts, March 24, 2019 – The dedicated and visionary leadership in tourism by St Kitts and Nevis' former minister of tourism, Sen the Hon Richard "Ricky" Skerritt continues to get international recognition, four years after leaving the office.
St Kitts has been recognised internationally for being a leading nation for sustainability in travel and tourism for the period 2005 to 2015.Skerritt led the ministry of tourism from 2004 to 2015.

The United Kingdom's leading publication, The Telegraph, featured St. Kitts in an article on sustainable tourism and planning for the future.
The St. Kitts Sustainable Destination Council is a finalist in the Destination Stewardship Award category of the World Travel & Tourism Council's 'Tourism for Tomorrow Awards'.
This accolade is recognition that St. Kitts is leading the way globally in sustainable destination management, and is strategically balancing the great economic benefits of tourism with the need to minimise any negative impacts on society, culture and environment.
The article applauds St. Kitts' proactive and future-led thinking, recognising that a sustainable tourism strategy is required following its exponential tourism growth between 2005 and 2015 under the leadership of Skerritt, a cabinet minister in Prime Minister the Rt Hon. Denzil L. Douglas Labour Party Administration.
The Telegraph is widely known as one of the world's most reputable newspapers. It has an impressive daily print readership of over 360,000 and over 24.8 million monthly readers of its online platform telegraph.co.uk. The travel section of the website is where many travellers go to seek valuable, trusted information about destinations all over the world prior to planning a holiday – including St. Kitts.
Disclaimer
*This article was posted in its entirety as received by SKN PULSE. This media house does not correct any spelling or grammatical errors within press releases and (or) commentaries. The views contained within are not necessarily those of SKN PULSE.