FIRST FEMALE PRESIDENT OF THE REPUBLIC OF CHINA (TAIWAN) HOPES TO EMPOWER MORE WOMEN TO ASSUME LEADERSHIP ROLES BY HER EXAMPLE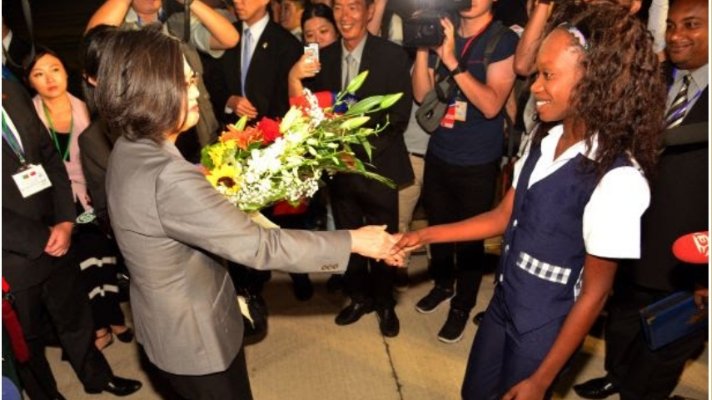 Photo: President of the Republic of China (Taiwan), Her Excellency Dr. Tsai Ing-wen receives a bouquet from a student of the Clarence Fitzroy Bryant College (CFBC) upon her arrival in St. Kitts and Nevis
BASSETERRE, St. Kitts, July 17, 2019 (Press Unit in the Office of the Prime Minister)
– Her Excellency Dr. Tsai Ing-wen believes that her election as the 14
th
President of the Republic of China (Taiwan) can only serve to inspire the next generation of female leaders globally and further promote gender equality.
H.E. Dr. Tsai, who wrapped up her first official State Visit to the Federation of St. Kitts and Nevis on Tuesday, July 16, made history in May 20, 2016 when she was sworn in as the first female President of Taiwan.
Speaking exclusively with the St. Kitts and Nevis Information Service (SKNIS) at the Brimstone Hill Fortress National Park, Dr. Tsai stated that her election as the first female president was a reflection of the success of Taiwan's democracy.
"I think my election as the President of the Republic of China (Taiwan) is actually a demonstration of the maturity of our democracy," President Tsai said.
The esteemed president, who holds a PhD in Law from the London School of Economics, indicated that shortly after her election there were doubts about her ability to lead the country effectively.
More than three years later, President Tsai believes she has successfully put those doubts to rest.
"Initially, people questioned whether this female president is going to be as competent as male ones but over the years I think they are convinced that female presidents can do even better than male presidents," President Tsai said.
President Tsai is also of the view that her success at the polls in 2016 showed the progress of the people of Taiwan "in overcoming the difficulties of discrimination against women."
While in St. Kitts and Nevis, Governor General His Excellency Sir S. W. Tapley Seaton conferred The Order of St. Christopher and Nevis on Her Excellency Dr. Tsai in recognition of her astute leadership.
That strong leadership was lauded by the Prime Minister of St. Kitts and Nevis, Dr. the Honourable Timothy Harris, who stated that "Her firm and competent leadership has been an example to, and Taiwan has grown in strength and stature internationally as a result of the quality of diplomacy being pursued by her and her government."
-30-
Disclaimer:
*This article was posted in its entirety as received by SKN PULSE. This media house does not correct any spelling or grammatical errors within press releases and (or) commentaries. The views contained within are not necessarily those of SKN PULSE.