NIA CHARLESTOWN NEVIS (October 09, 2023)-Miss Annalysse Arthurton of the Charlestown Secondary School is the recipient of the Wallace Family Bursary in Foreign Languages for 2023.
Ms. Arthurton registered the best performance over the previous school year. The Wallace Family Bursary recognizes outstanding achievement for students who demonstrate aptitude and passion for foreign languages.
Mrs. Hyacinth Wallace-Forbes, the mother of Mr. Eustace Theo Wallace -founder of the Wallace Family Bursary, made the presentation during a recent ceremony held during the school's morning assembly.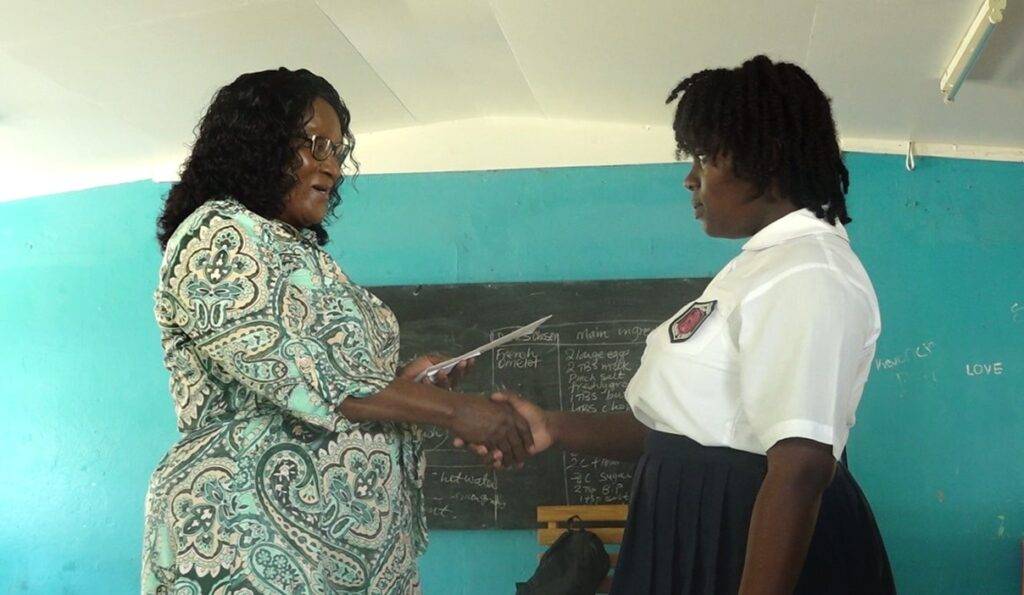 The ceremony came as a result of a close working relationship between Ms. Angela Monzac, Chair of the Foreign Languages Department at CSS and Mr. Kevin Barrett, the Permanent Secretary in the Ministry of Education, both former teachers of Mr. Wallace.
Mr. Wallace currently serves as the Chargé d'affaires ad interim with the rank of Minister-Counselor at the St. Kitts and Nevis High Commission to Canada. He has a keen interest in cultivating investments and interest in foreign languages to ensure St. Kitts and Nevis is geo-strategically positioned to fully engage in multi-island partnerships with its francophone and Spanish speaking neighbours, and its brothers and sisters in francophone Africa. Mr. Wallace hopes that this small initiative blossoms into a wider recognition of the role of languages in sustainable development.
END