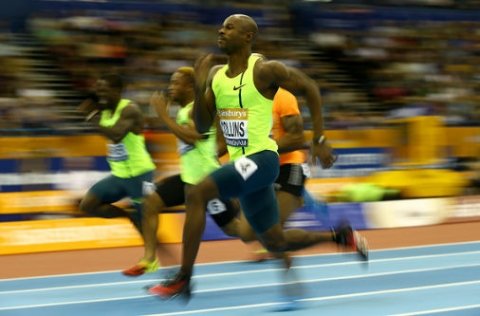 By: T. Chapman

SKN PULSE – Kittitian sprinter Kim
Collins and Trinidadian sprinter Michelle Lee Ahye achieved third-place finishes in the 60-metre dash for men and women, respectively, at the 2018 ISTAF Indoor meeting in Berlin, Germany, held earlier today, Friday
, 26th, January.
Collins clocked 6.64s as he placed third in the men's final behind Italy's Filippo Tortu (6.62) and winner Bingtan Su of China 6.55.
Su's time was only 0.05 seconds off Collins' meet record of 6.50.
Earlier, the 41-year-old Collins, who continues to defy time and impress he fans was second in his qualifying heat in 6.66 seconds. The heat was won by Tortu in 6.62.
Meanwhile, Michelle Lee Ahye, arguably Trinidad and Tobago's most consistent female sprinter over the past two seasons, was in top form even as she lost in a blanket finish to Germany's Tatjana Pinto, who crossed the line first in 7.13.
Michelle clocked 7.16s to finish a shade behind Switzerland's Mujinga Kambundji (7.14).
The Trinidadian sprinter was also third in her qualifying heat in which she clocked 7.22 to deny Jamaica's Remona Burchell (7.24) a spot in the final.
The heat was won by Pinto in a world-leading 7.08s