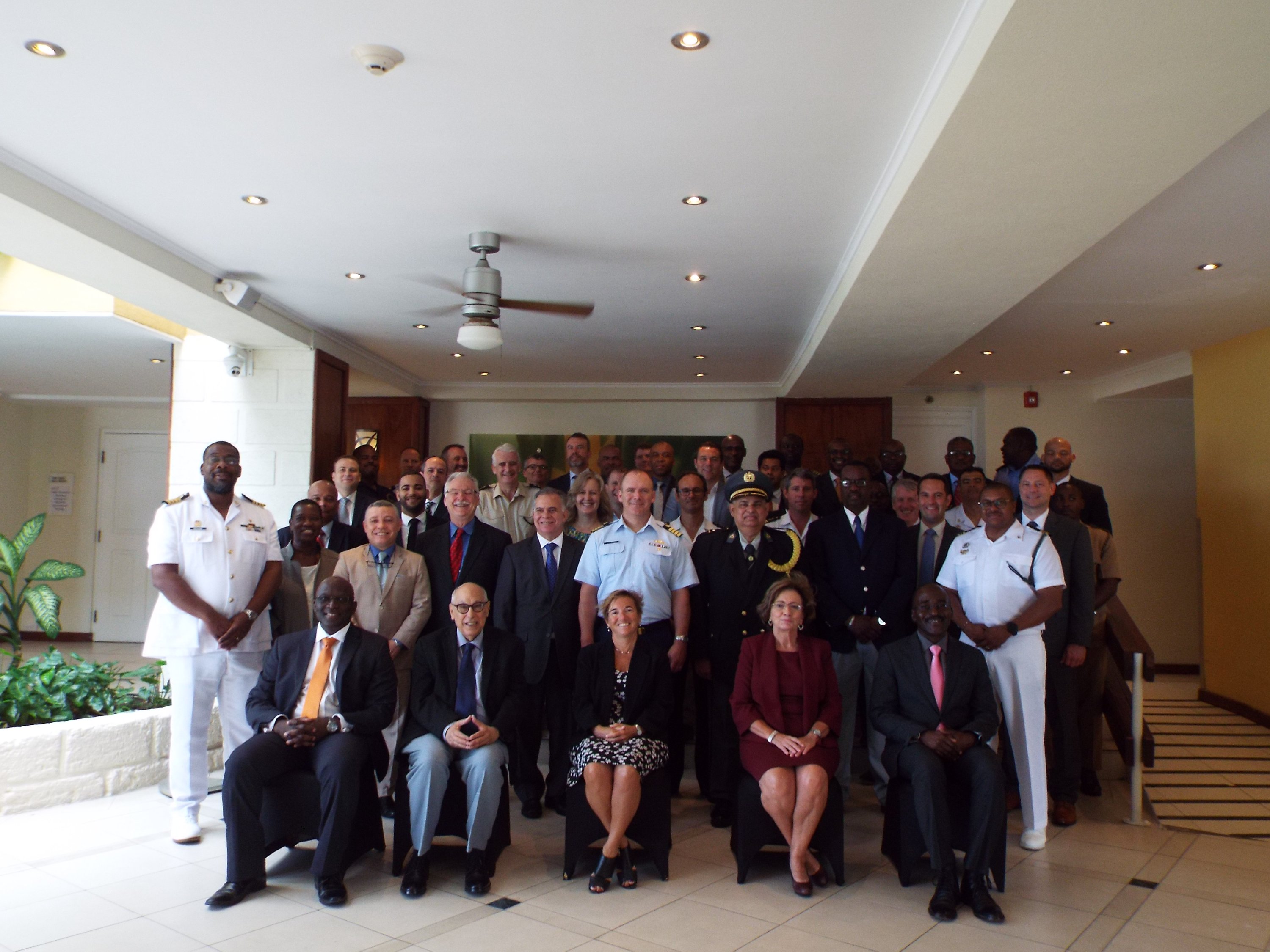 Photo Caption: Delegates at CBSI Technical Working Group in Barbados
On April 30 and May 1, 2019, the United States and the Caribbean Community Implementing Agency for Crime and Security (CARICOM IMPACS) will co-host a Technical Working Group (TWG) meeting in Barbados to discuss efforts to increase public safety and security in the Caribbean.
The Caribbean-United States Security Cooperation Joint Action Statement of November 2017 called for the creation of this Caribbean Basin Security Initiative (CBSI) funded working group, which is in support of the U.S.-Caribbean 2020 strategy. Maritime authorities from Antigua and Barbuda, The Bahamas, Barbados, Bermuda, the Cayman Islands, Dominica, the Dominican Republic, France, Grenada, Guyana, Jamaica, the Netherlands, St. Kitts and Nevis, Saint Lucia, St. Vincent and the Grenadines, Suriname, Trinidad, the United Kingdom, as well as officials from CARICOM, the Caribbean Customs Law Enforcement Council, the Inter-American Drug Abuse Control Commission, the Regional Security System, and the United Nations Office on Drugs and Crime will participate.
The multi-lateral Technical Working Group focuses on maritime operational cooperation and integration within the region. The Caribbean hosts abundant transshipment points for illicit trafficking primarily from South America destined for North American, European, and domestic Caribbean markets. Criminal networks have taken advantage of regional porous borders to facilitate the movement of firearms, drugs, and people through the region.
Improving maritime operations and law enforcement cooperation will enable regional coordination of maritime interdiction efforts between and among Caribbean countries, to include regional security institutions such as the Regional Security System (RSS) and CARICOM IMPACS.
Through this cooperative dialogue, the United States and CARICOM will prepare recommendations for the Heads of Government on priority actions to strengthen regional maritime operations and law enforcement cooperation and coordination to arrest the spread of organized criminal activity in the Caribbean.
-End-
Disclaimer
*This article was posted in its entirety as received by SKN PULSE. This media house does not correct any spelling or grammatical errors within press releases and (or) commentaries. The views contained within are not necessarily those of SKN PULSE