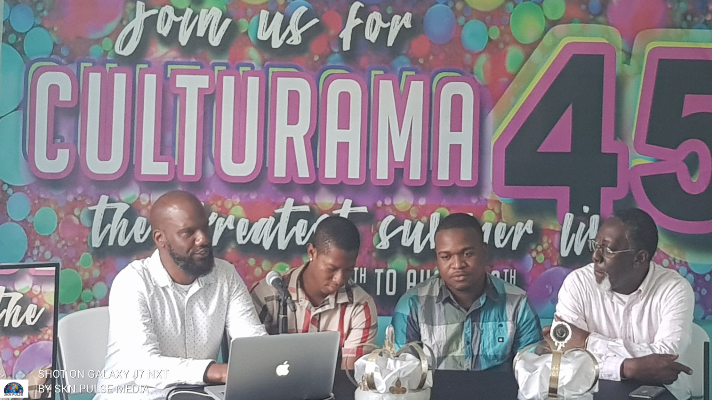 By: Tito Chapman
Dubbed Candy Land – Team Kore revealed their Jouvert Packages earlier this morning, (Tuesday 3rd April) at the Nevis Cultural Foundation Conference Room.
Band leader, Mr. Cory Tyson along with lead singers Delroy 'Delly Ranks' Huggins and Jevaun 'Speedy' Jeffers informed fans of what to expect from the band for the upcoming Culturama Festivities.
Tyson gave an extensive overview of what to expect. Tyson said:
This year we are rolling out some new initiatives:
The Band will have a Free Open Bar which would be fully stocked and would include top shelf liquors
-Kore will be partnering with Island Purified Water, Caribe Pay and Caribe Tickets.
Persons can purchase their packages online with Caribe Tickets. Patrons who use Carib Pay or Caribe Tickets to purchase their packages will be given a special band to access additional options according to brand representative, Mr. Anthony Gajor.
-In addition, the band is partnering with Jiggy Wine for a second consecutive year.
– Kore Relief Plan: A 5% discount for Fourseasons Workers who purchase two or more packages.
Delly informed the listeners that Center Base, (An event held to promote Kore packages and songs) will be held on June 22nd at Marketshop while Speedy hinted that the first Kore track will be released on April 12th. According to Speedy, from tonight, (April 2nd, they will be in the Studio: beats already made, lyrics already penned… "Just plug-in."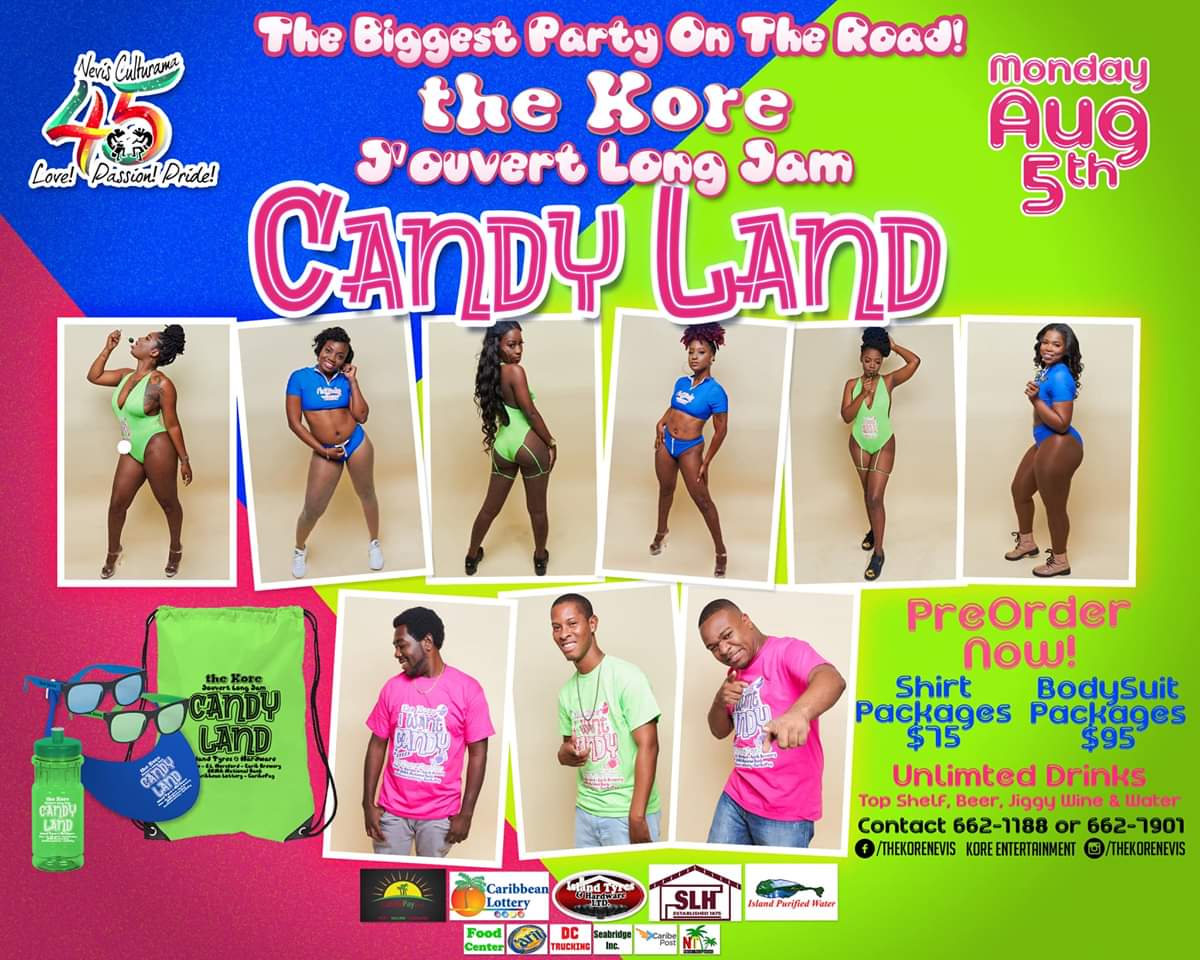 Photo Caption: Official Graphic Released by The Kore, displaying J'ouvert Packages.
Women Revellers can choose from two body suits, a one piece and a two piece. The available colours are blue and green.
Kore is offering four options for your Jouvert packages.
Cory informed fans that:
We are not increasing the prices for the packages this year. We are sticking at $75 for the T-shirts and $95 for the body suits. We are adding but not adding to your Culturama expenses.
In attendance were some of the sponsors. Represented were Horsfords, (Mr. Carlisle 'King Binghi' Pemberton), Caribe Post, (Tricilla Arthurton), Caribbean Lottery, (Ms. Sabina Harrinarain) and Caribe Pay, (Mr. Anthony Gajor). All of whom gave brief remarks about their partnership with Kore. Legal adviser to the Government, Mr. Colin Tyrell was also in attendance as well as Director of the Nevis Cultural Foundation, Mr. Jerome Rawlins.
Also in attendance was Chairman of the St. Kitts and Nevis National Carnival Committee, Mr. Noah Mills. In his brief remarks, he brought greetings from the committee, the ministry and Hon. Shawn Richards. He congratulated the Kore team for being the first band to have such a reveal in St. Kitts and Nevis.
He said:
When I think of Kore Band, three words come to mind:

– Talent – Professionalism – Appeal
The band having toured St. Maarten, Anguilla and Montserrat lately is being considered to travel to CARIFESTA in Trinidad later this year, according to Mills he is batting in their corner. The SKNCC Chairman extended an invitation to Kore to bring the Long Jam to St. Kitts. Last year, Kore was featured during the Carnival celebrations.
Chairman of the Culturama Committee, Abonaty also gave brief remarks.
Adopting the protocol that was established, the Chairman acknowledged the presence of 'King Binghi' and gave a brief history of the Long Jam which he said commenced in 1989 by the Kassanova Band.
While congratulating Kore Band for adding entertainment to Culturama, Liburd said:
We are using the promotions leading up to culture 45 to promote another home-coming.

Persons coming to culturama this year, would be getting more folklore content.
This year would make eight years Kore Band has been doing the Long Jam. With their first go round, they had thirty revellers.
However, today:
They are proud to say, they are pushing thousands of Revellers.
Click To Visit Kore Facebook Page