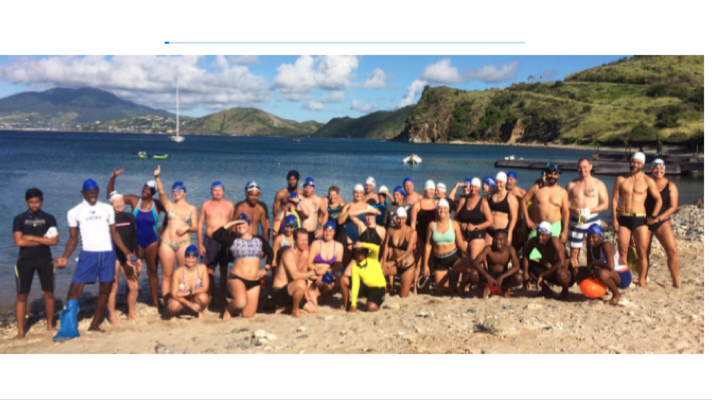 On 28th November, 2020, the St. Kitts Yacht Club held its 7th annual Peninsula Swim. This open water 3k swim drew participants from as young as 8 swimming along the South-Eastern coast of St. Kitts from Salt Plage, Whitehouse Bay down to Shipwreck Beach Bar, South Friar's Bay.

Just over 50 years ago the twin island federation of St. Kitts and Nevis was hard hit by the Christena Disaster. On her last voyage that fateful day, Christena sank while making her journey from St. Kitts back to Nevis and approximately 229 lives were lost. Many of those on board simply could not swim and the tragedy which took the lives of so many has inspired the need for a more developed swim culture within the federation.
The St Kitts Yacht Club is a not-for-profit organization offering swim and sailing lessons among other activities. All proceeds from the Peninsula Swim go towards the Phillip Walwyn Foundation. This is used to subsidize the costs of swimming and sailing lessons for local children.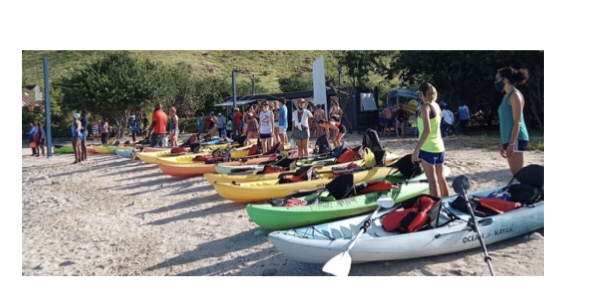 For the last seven years on St. Kitts, the St. Kitts Yacht Club has been providing the opportunity for all swimmers whether hobbyist, those who swim for exercise or leisure and professionals to challenge themselves.
This year a total of 40 swimmers took up the challenge including participants from the local Special Olympics arm, assisted by a safety support fleet of 32 kayakers and stand-up-paddleboarders. The swim participation was a little less than previous years. However, in light of Covid, and the added challenges adopting necessary protocols this year, it was a much-needed release and we were happy with the outcome.

With the news that the swimmers had started just after 830am, the timers and spectators kept a keen eye out for the first swimmer(s) with the first projected to arrive around 1 hour after start. The excitement on-shore grew as kayaks were visible in the distance some 30 minutes in, indicating that swimmers were already nearing that home stretch.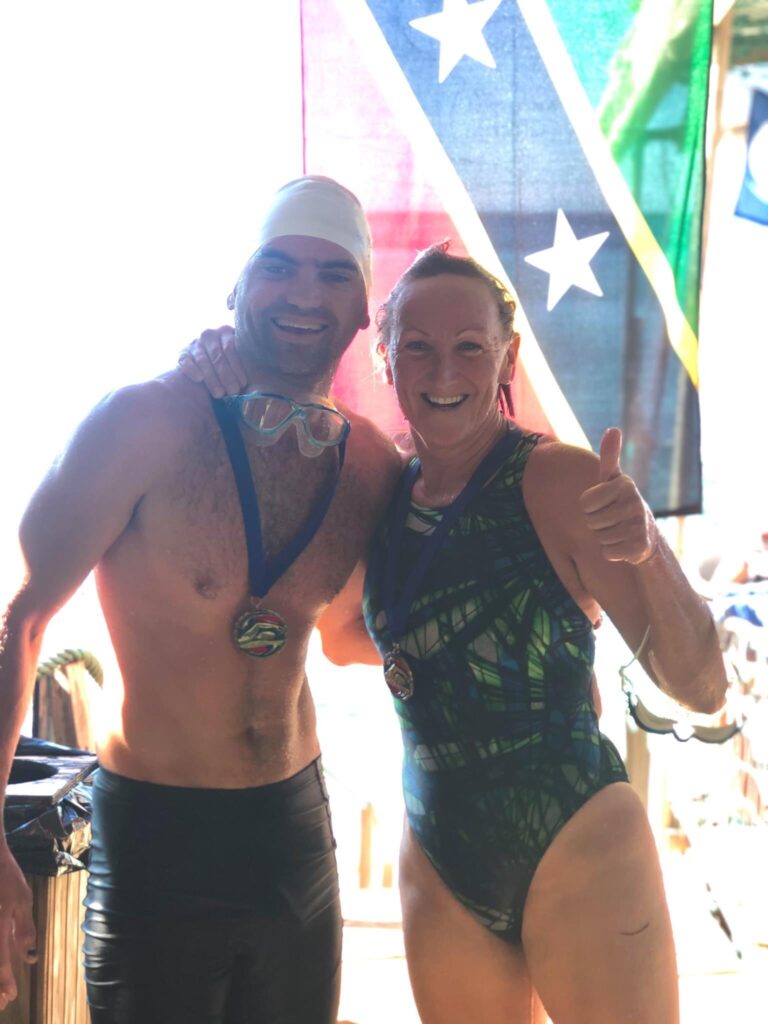 The first four swimmers came ashore just under that one hour mark. First to cross the finish line was Jane Hoosom with a time of 51:03 minutes, closely followed by Ninian Cameron-Blake with a time of 51:09. In third place was Geoffrey Holsom with a time of 53:38.
In each swim category, the top three with the best times were:
Under 18 Male:
1st – Hrishikesh Srinivasan – 1:18:08
2nd – Zaiden Henry – 1:20:
3rd – Abhijith Srinivasan – 1:54:41

Under 18 Female:
1st – Neriah Downey – 1:22:08
2nd – Rashida Nisbett – 2:00:29

18 – 40 Males:
1st – Ninian Cameron-Blake – 51:09
2nd – Nicholas Dupre – 1:04:02
3rd – Ronan Chapuis – 1:06:45

18 – 40 Females:
1st – Kierra Watson – 58:42
2nd – Leah Cameron-Blake – 1:05:17
3rd – Brook Toussaint – 1:07:14

Over 40 Males:
1st – Geoffrey Folsom – 53:38
2nd – Roger Hancock – 1:05:20
3rd – Peter Dupre – 1:15:54

Over 40 Females:
1st – Jane Holsom – 51:03
2nd – Aline Vieira – 1:16:45
3rd – Annelise Leibbrandt – 1:20:38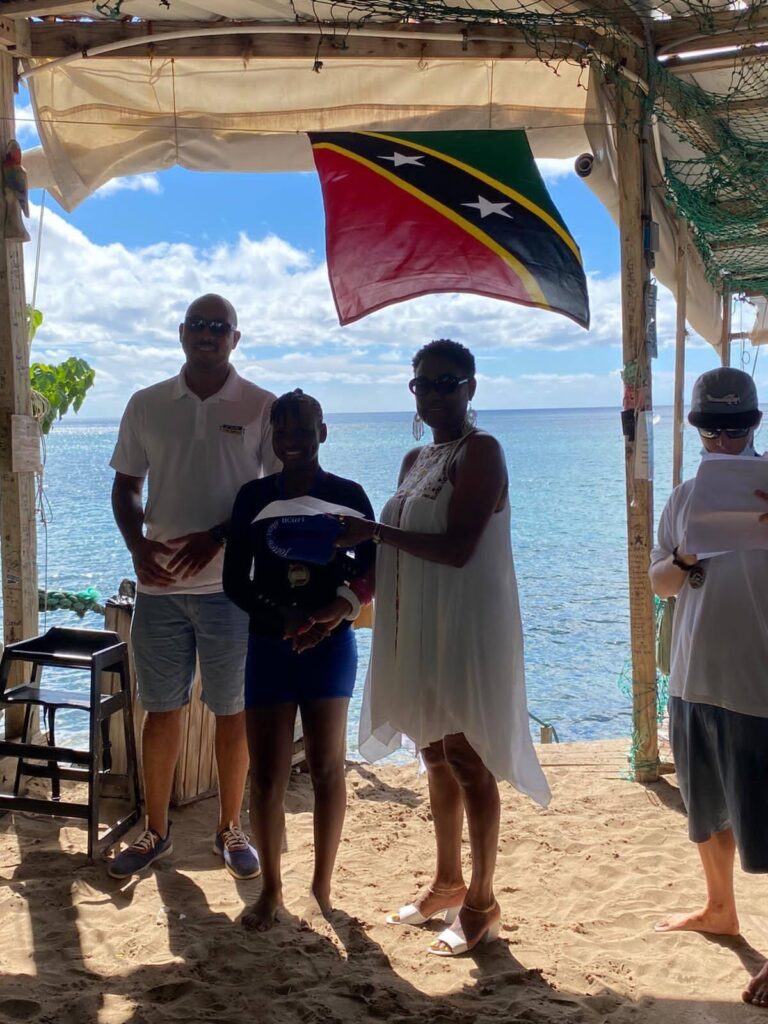 At the prize giving ceremony we welcomed Minister of Education, Youth, Sport and Culture, Honorable Jonelle Powell as well as the permanent secretary in the Ministry of Tourism, Mrs. Carlene Morton to say a few words and assist in handing out prizes for the podium swimmers in each swim category.
This year's staging of the 7th Annual Peninsula swim could not be possible without the support of its sponsors. We would like to take the time to thank them all for coming on board with us and helping to ensure a successful event.
St Kitts Yacht Club – Creating and managing the event, prize – sailing lessons
Leeward Islands Charters – Registrations
Brook and Ross Swim Club – Registrations
Nevis Aquatic and Sailing Center – Nevis registrations
Department of Youth Empowerment – Transport
MC Talbo Ruffneck – Transport
Big Banana – Transport
Christophe Harbor – Beach access, prize – wine
Blue Water Safaris – Kayaks
Ballast Bay Outfitters – Stand up Paddleboards, prizes- insulated cups + clothing Beach Addiction St Kitts Nevis – Safety boat, prize – kiteboarding lesson
Coast Guard – Safety support
Shipwreck Beach Bar – Hosting event + water for athletes (toilets/seating etc)
St Kitts Catering/Paw Paw at Ross – Great brunch
Rogers Eco-tours – Prize – rainforest tour prize
Joya's Boutique – Prize – ladies bag
Soul2Sole – Prizes – Prize – pedicure
Sugar Town Organics – Prize – local organic edible and skin/hair products
Diamonds International – Prize – heart necklace pendant
Royal St Kitts – Prize – 1 night stay in 2021
Montraville Farms – Prize – 2 sample packages of leafy greens
SKN IT Solutions – Prize – wireless router
Ministry of Tourism – Prizes – multiple snorkel and fin sets
St Kitts and Nevis Swimming Association – Support throughout the years

A big thank you to the St Kitts Yacht Club team, our partners, sponsors, participants and spectators for coming out and making such a wonderful event! Follow us online and see you same time next year for the 8th Annual Peninsula Swim!
THANK YOU!